posted by
cspikor
on
Wed, 10/18/2017 - 03:10
Build image: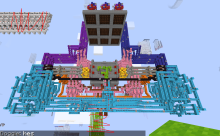 In-game name (NO VISITORS! Must be LEARNER rank or higher!):
Builder name(s) and current ranks:
Machine Features:
Tic Tac Toe with a fairly fast response time(you can judge that though) illegal move detection, turn detection, and win/tie detection.
How To Use:
Go in the middle area. Press the reset button on both sides if necessary. Choose your sides. Choose which side goes first. Play the game.