posted by
EngineerRS
on
Mon, 12/10/2018 - 23:16

Build image: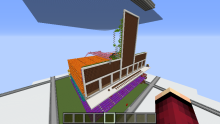 In-game name (NO VISITORS! Must be LEARNER rank or higher!):
Builder name(s) and current ranks:
Machine Features:
The Hangman is a game consisting of finding a word by guessing what are the letters that compose it. The game has a win detection and a lose detection + Fireworks, the game is automatic and secure.
How To Use:
To update it press "reset" and a word will be chosen randomly, you just have to find the words with the letters, to help you, you have on the ground "lamps" that warn you if you already played this letter. To get a new word after you win or lose you have to "reset" !