posted by
JacksGraphics
on
Fri, 11/22/2019 - 17:31
Build image: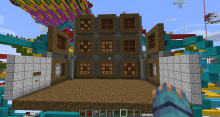 In-game name (NO VISITORS! Must be LEARNER rank or higher!):
Builder name(s) and current ranks:
AyThatsPrettyGud: learner
Machine Features:
My Tic Tac Toe has win detection, auto-reset, spam proofing, and has an actual x display instead of a cross. For my win detection I connected the displays to 3 input and gates for all possible patterns. for the spam proofing I connected a piston block to the opposite sides same button so that if you press the button once neither can press the same button until winning or pressing the reset button. the button inputs have torches that are reversed and attach to what I believe is called a d latch? this connects to the arrays that have torches on the side powering the display when proper. the reset system is attached to the win detect and a button which can manually reset it this powers a constantly powered torch which lines over to the button-display and powers the redstone resetting the game.
How To Use:
It's tic tac toe. Left side is O and right side is X