posted by
bruh
on
Thu, 12/26/2019 - 19:38
Build image: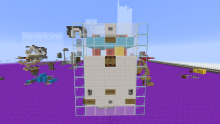 In-game name (NO VISITORS! Must be LEARNER rank or higher!):
Builder name(s) and current ranks:
Machine Features:
2 Inputs, 1 Output. You can change whether the input combination gives an output or not. You can also reset the mechanism's memory.
How To Use:
It's very simple. The inputs are just inputs. The button at the bottom is to change whether the output is off or on for the given input combination. The button at the top is to reset the memory that has been preset.