posted by
vicketick
on
Fri, 12/27/2019 - 12:13
Build image: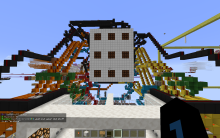 In-game name (NO VISITORS! Must be LEARNER rank or higher!):
Builder name(s) and current ranks:
Creation location:
676 201 -212 learner area
Machine Features:
tic tac toe with anti spam, win detection, turn detectoin and indicators. i dont really know what algoriths it uses since im new to this type of redstone. im more in to doors normaly so i dont know what anything i used is called
How To Use:
x starts. you press the buttons on the side that match the display. on the floor behind you there is a turn indicator. if the light is on its your turn.then you can play like this. when one of the players win the light under the glass on the winners side will light up. then you can press the reset button and play again.