posted by
Hunters00gaugeYT
on
Thu, 04/02/2020 - 03:16
Build image: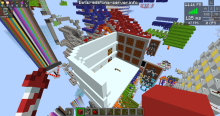 In-game name (NO VISITORS! Must be LEARNER rank or higher!):
Builder name(s) and current ranks:
Machine Features:
my machine can run ttt and can be reset and is easy to use. my machine uses 16 and gates as win detect and uses a t flip flop to change between x and o I use a recoder to get my inputs the way it works is button input to recoder to an x or o dropper then to win detect and finally to the display. it is alsp spam proof.
How To Use:
click the one of the 9 buttons on the left then to the right of that there is a reset button for a tie game then there is a display that shows whos turn it is (x or o) behind u lthere is a light and a sign telling u that all inputs that are inputted when the light is off will be denied.