posted by
Sushi_Cat0102
on
Sat, 06/20/2020 - 21:24
Build image: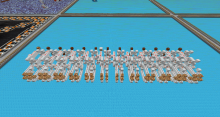 In-game name (NO VISITORS! Must be LEARNER rank or higher!):
Builder name(s) and current ranks:
Machine Features:
It's a 12 bit BCD adder/subtractor. Includes tons of XOR gates. Can handle up to 3 digits at the same time.
How To Use:
To add flip the left lever for the first number, flip the second lever for the second number your numbers added will be displayed on the bottom lights, and your numbers subtracted will be displayed on the top lights.