posted by
stym
on
Wed, 2012-07-11 14:06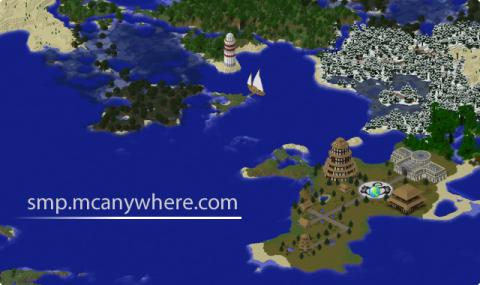 The server address has changed: smp.mcanywhere.com
So this finally happened. The SMP server is officially open. This work has, in fact, been going for so long, that when it was finally finished this kind of caught me off guard, and I don't know what to say now. :) Oh, there's several things though.
First and foremost, the server still has a whitelist, but now each player has an ability to invite up to 5 friends, and as soon as they activate their invitation codes the will be able to join the server that instant.
If you were whitelisted on the server in the past, check your mailbox for an invitation code from me. It will lead to a web interface where you will be able to redeem the code, and also send out invitation codes to your friends. If you're not finding the email, send me a PM and we'll sort that out.
As a bonus, for every friend invited you will receive 300 Cubits as soon as they are approved.
Don't be confused by the name mcanywhere.com. This is a side project of mine. :) The same people stand behind this SMP server, and the same friendly spirit abides.
There's a lot of stuff coming in the next couple of weeks. Here's some items from my todo list:
A proper website (obviously)
Stats tracking on the website, and leaderboards
An achievements system, that, again, integrates with the website.
Stay tuned, and as always, your feedback is appreciated.