posted by
dutchminer2011
on
Wed, 2022-11-02 16:34
Build image: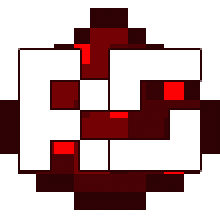 In-game name (NO VISITORS! Must be LEARNER rank or higher!):
Builder name(s) and current ranks:
Machine Features:
the line drawer I built has a lot of interesting features and tricks I used to get the speed to 2 ticks per pixel:
the line drawer is 5 bit, so it has a 32x32 screen
the line drawer can draw lines at any angles
the time it takes for the line drawer to start drawing the first pixels is about 6 seconds
the build has 2 cores which are running at 4 ticks each and both have their own incrementors and decrementors that interact with a screen. Components like the screen, incrementors and adders have all been customized to work at high speeds.
the algorithm I am using is Bresenham's, which I adjusted to work with two cores. what the algorithm does is start drawing the pixels from both ends of the line, doing this comes with some symmetry problems, so I adjust the second core by adding 1 to it's initial value.
I got each core to be 4 ticks by using two 3 tick CCAs and having them compute "Ans + (2dy - 2dx)" and "Ans + 2dy" at the same time and decide which is correct at the output. credit to the idea goes to "DemRedstoneOp", but I build all of the Redstone myself.
the incrementor/ decrementors have also been heavily modified, because I needed one that would work on a 4 tick clock and the common designs all use torches.
How To Use:
the line drawer has inputs for two points, which will be the two end points of the line.
there is a button to start drawing the line.
there is a button for stopping the line from drawing (this will also happen when the line is done drawing).
there is a button for clearing the screen.